Are you planning a camping, hiking, and kayaking trip this weekend? Lake Fort Smith state park is located in the rough Boston Mountain Range of the northwest Arkansas Ozarks and has a unique beauty. The park provides a peaceful setting for camping, hiking, mountain biking, fishing, kayaking, picnics, swimming, etc.
Fort Smith is a great campground and a well-maintained state park. However, you must bring your own electricity for wild camping, either foldable solar panels or a portable power station.
Before diving into its features, let's learn more about Lake Fort Smith state park.
About Lake Fort Smith
Lake Fort Smith state park lies between Fayetteville and Fort Smith in the Boston Mountains of the Ozark National Forest.
It is a beautiful multi-use area and a great campground on the shores of Lake Fort Smith.
The area was formerly a popular city park in Fort Smith, created by the WPA in the 1930s.
The state park was relocated from its original spot and reopened in 2008 on the western side of a 1,400-acre reservoir created by widening and connecting Lakes Fort Smith and Shepherd Springs.
The beautiful and crystal clear lake is surrounded by the Ozark Mountains for refreshment, and it supplies drinkable water to the park and surroundings.
The Lake Fort Smith state park acts as the western terminus of the Ozark Highland Trail due to a trail link.
From the state park, the hiker can traverse the Ozark National Forest, many wilderness regions, and the Buffalo National River on foot.
Additionally, the Wild Turkey Lodge, picnic sites, boat rentals, and other new facilities at the park were funded by the City of Fort Smith and the Arkansas State Parks system, including other extra features.
The state park guides take visitors on nature treks and lake cruises. However, swimming, water skiing, stand-up paddle boarding, or jet skiing are prohibited on the lake.
Lake Fort Smith State Park Facilities
With the numerous Lake Fort Smith state park facilities, you'll surely have a memorable camp experience.
Here are Lake Fort Smith State Park's mind-blowing facilities:
Camping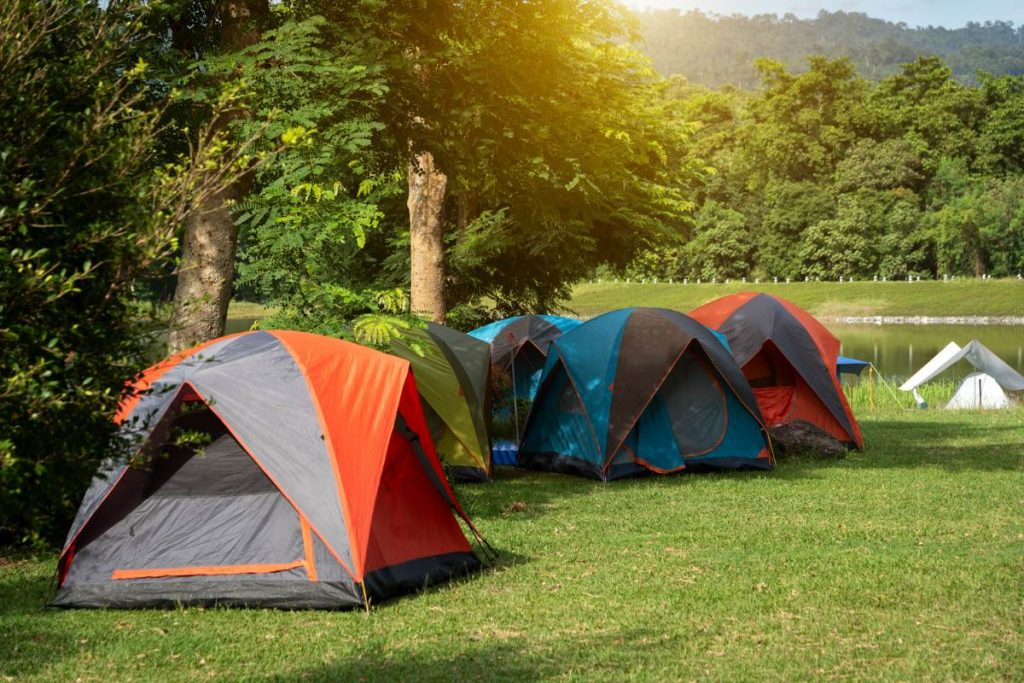 Lake Fort Smith has 30 campsites to select from. You can choose from either the 20 campsites with full hookups (Class AAA) or the ten campsites with water and electricity (class B).
It offers year-round convenience with hot showers in heated bathrooms. Also, note that the two campsites are fenceless.
Cabins
There are ten rental cabins available in Fort Smith state park. The cabins have options for one and two bedrooms, with a bathroom.
The cabins consist of a large room with a wood-burning fireplace, high-definition satellite TV, a kitchen, and dining space.
It also has a sizable, elevated covered deck at the back and is barrier-free.
Group Lodging
Group accommodations or lodging (Wild Turkey Lodge) involve a big dining hall and two group lodges with kitchenettes.
Each lodge has single beds and private rooms for the counselors. The Lake Fort Smith state park's Wild Turkey Lodge can hold up to 28–32 campers.
Park Marina
Fishing boats, canoes, pedal boats, kayaks, party barges, etc., are available for rent at the state park marina.
You can also purchase supplies such as vending machines, bait, an adjacent wading pool, and tackle. There is a two-lane boat ramp nearby.
Trails
Hiking trails are a great way to take in the Ozark Mountains' changing seasonal beauty.
Lake forT smith state park serves as the western terminus of the 165-mile Ozark Highlands Trail (OHT), which offers hiking and backpacking that is as gorgeous and difficult as any in the nation.
Also, the Ozark Mountains are located in the center of this 165-mile path.
Other Facilities
Apart from the above-mentioned facilities, there are other mind-blowing Lake Fort Smith state park facilities.
Picnic areas, a pavilion, a playground, a meeting/classroom, a swimming pool, a gift shop, and a visitor center with interactive exhibits are among the other enjoyable fort smith state park amenities.
Lake Fort Smith State Park Interpretive Services
The visitor center houses a sizable exhibit gallery emphasizing how the scenic valley has historically been a site of hope, faith, and sacrifice due to good water.
A replica pioneer log cabin, a covered wagon, a reenactment of Shepherd Spring, and a lake diorama are always on display.
There's also a 16-minute movie that makes a deeper connection between the valley's water supplies and human habitation.
All lake fort smith state park visitors are welcome to participate in interpretive programs and lake tours year-round.
Programs offered in the park and at the visitor center include guided walks, nature presentations, wildlife viewing, kayaking, lake excursions, and demonstrations.
Your starting point for exploration of the Boston Mountain valley and diverse natural environment is Lake Fort Smith State Park.
The park interpreters lead guests on adventure sports. These include kayaking, mountain biking, hiking schools, and outdoor activity preparation sessions.
Workshops on outdoor skills may cover topics on journaling, birding, art, safety & survival, photography, outdoor ethics, campfire cookery, and lake tours year-round.
Also, groups can ask for customized programs to suit their interests anytime. However, the plans must be made in advance.
The Arkansas State Park System is a pioneer in giving instructors and students practical, curriculum-based resource support.
Lake Fort Smith state park staff provide curriculum-based educational activities in which classroom concepts are applied to park resources.
The Most Beautiful and Clean State Park in Arkansas
Lake Fort Smith state park is loved for being the most beautiful and clean state park in Arkansas. With its beautiful trees and lively mountain, it has become the first choice for campers.
Also, you can get to enjoy hiking, mountain biking, boating, kayaking courses, nature photography, art, and many outdoor adventures in Lake Fort Smith state park.
However, Swimming (except in the swimming pool), stand–up paddle boarding, jet skiing, and water skiing are not allowed on the lake.
FAQ's
Are Dogs Allowed at Lake Fort Smith State Park?
Lake Fort Smith state park is dog-friendly. However, there's an extra fee attached. Lake Fort Smith has lodges that can accommodate you and your dogs.
Are Boats Allowed on Lake Fort Smith State Park?
Boats are allowed, although Lake Fort Smith is a source of public drinking water, so swimming is not permitted.
You can hire kayaks at the marina during certain seasons or bring your own kayak or canoe.
Is Swimming Allowed at Lake Fort Smith State Park?
Lake Fort Smith has a swimming pool for visitors interested in swimming. However, swimming is banned on the lake.
How Much Does It Cost to Camp at Panther Creek State Park?
Panther creek state park charges a $5 reservation fee, which is non-refundable for each site.
Two nights are minimum, Monday through Sunday. Weekends cost $275, weeknights $225. The price includes the use of a portable restroom.